A New Product We've Started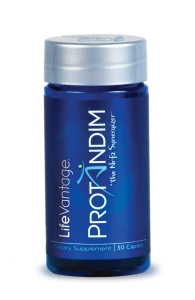 Partly because of our infertility issues (Read about that here and share it with your friends! We're raising funds to do an IVF procedure), Becky and I were introduced to a a new product we had never heard of before. If you read our story over on prayingforalittlesnow.com, you'll find that Becky had a lot of internal scar tissue. When a family member saw that information, he introduced us to Protandim.
Protandim is technically a patented dietary supplement that combats oxidative stress through Nrf2 activation. Without getting into deep scientific and technical details (you can find information in the links below), Protandim causes your body to work like it's supposed to in fighting bad stuff.
Becky has been taking it for a little over 3 weeks and has noticed an increased energy level, better focus and better sleep. Without doing another surgery, we can't go in and see if it is repairing her scar tissue, but we did speak with a nurse whose daughter had similar scar tissue that disappeared after the use of Protandim.
I've done YouTube searches for testimonials and found videos like this one by Dr. Alice Reed, and this one by Nancy Robert.
I have achy knees, seasonal allergies, and high cholesterol, all of which I'v seen reports of Protandim helping with. I've got my first bottle on order and will be starting my daily dose in less than 2 weeks. I'll certainly update on my progress!
I invite you to take a look at abcliveit.com for an investigative report that ABC did, and for more of those technical details I spared you from in my writing. If this is something you'd like to learn more about or would like to try it, please visit my website at mylifevantage.com/jsnow.