Philip Fulmer to Step Down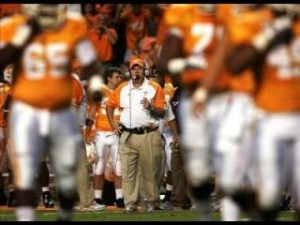 Philip Fulmer, in a press conference yesterday afternoon at 5, said that an agreement was reached that he would step down as head coach of the UT Football Team at the end of the season.
Fulmer has been the head coach at UT for 17 years, and in 1998 UT won the national championship after an undefeated season.  However, in the years following, the football program has gone downhill.  They've won SEC division titles and been to several bowl games, but they haven't seen the same success as they had in past years.
My personal opinion is that this has been a long time coming.  This is the SEC.  We're supposed to be great, but we haven't been.  The attitude with a lot of high school recruits is that they don't want to play for coach Fulmer.  Eli Manning is a perfect example – he played for Cutcliffe rather than Fulmer.  The idea was that Cutcliffe did more for his older brother Peyton as an offensive coordinator/quarterback coach than Fulmer did.
I don't hate Fulmer.  But I do think that UT kept him longer than they should have.  When local recruits wouldn't even play for him (Brandon Warren), a red flag should have gone up.  Yes, I know Warren is there now, but his decision was an automatic one when his grandmother became ill.
Some people feel sorry for Fulmer.  I don't.  Well, maybe I do to a point – the whole deal probably could have been handled better to possibly save some public embarrassment, etc.  But it's not like he is struggling to make ends meet.  He's better off than any of us can ever hope to be, financially speaking.  Looking at it from that perspective, I have no sympathy.
Maybe I'm just a cold-hearted person.  But the UT Football program has needed a new direction for a long time.  The years to come will be rough – the new coach and his new staff (I hate to see Chavis go, but he probably will) will take a while to build their type of team.  But if UT can hire a staff that can be true to the SEC attitude of greatness, it will be worth it for the team.