Is Obama the Messiah?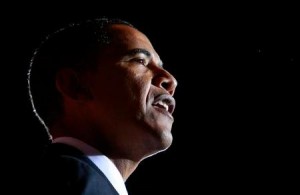 I hadn't thought much about this until my dad brought it up yesterday.  Lots of people world-wide are calling Obama the Messiah.  I did a quick little search which turned up page after page, news articles and blogs about him being the Messiah.  Just to be fair, I did the same search with Bush.  A few turned up, but not nearly as many.
I also found references to him and the 'Promised Land'.
People view this man as a god.  They look at him as the answer to all of their problems.  And with them already calling him the 'Messiah' (which literally means 'The Anointed One'), they're just as ready as ever to accept the antichrist.
Am I saying that Obama is the antichrist?  No, but it isn't a totally absurd idea either.  Either way, the people of this world are ready.  They will blindly follow the man that sets himself up as the antichrist, much as they are blindly following Obama.
You may ask why I say people are blindly following him now?  People have to be blind to not be able to see what kind of man this is.  I've talked about several different things that Obama has promised to do, which will inevitably make it even tougher for the common American family to make ends meet.  If he keeps those promises, he will hasten the moral demise of this country.  I'll stop there before I get too fired up again…  If you haven't already, you can look at some of my previous posts about Obama to get a feel for what I'm talking about.
Some of you may say I'm speaking prematurely about people blindly following him, since he isn't behind the desk of the Oval Office yet.  Let's watch the approval ratings during his presidency and see if I'm not right.  I hope I'm wrong…