My Email Server – Zimbra
A good while back, I spent a lot of time searching for a nice, solid, smooth email server for use on my system at home.  I host my own domains, and my own email server.
At that point, I tried several different systems, everywhere from simple Postfix IMAP/POP servers, to full-blown groupware suites.  I won't take the time to list them all.  Some of them are free, some of them are not.
I decided that since I was able to use virtual machines (VMware has a free server product in case you've been living under a rock), it was time for me to implement a simple ActiveDirectory at home.  Just because I could.  It seemed logical to try out Exchange in this little lab of mine.  It worked well.  But as I moved my desktop/laptops over to Ubuntu, I needed something better than OWA through Firefox – OWA is no good without Microsoft's junky ActiveX in case you've never tried it.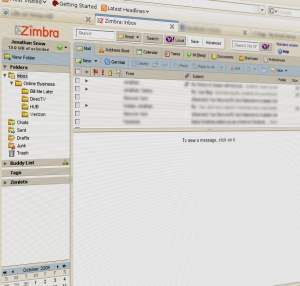 Here is where Zimbra comes in.  It was previously one of the systems I'd tried, and I liked it really well.  In fact, it may have been what I replaced when I installed Exchange.  I honestly can't remember, but I can't think of any other reason why I would've ditched it.  It's that good – to me.
It offers pretty much everything Exchange/Outlook does, and it does it very smoothly, efficiently and prettily, if that's a word.
Zimbra runs on Linux, which is a huge plus for me.  It was actually my main requirement for finding a new email system.  They offer a completely free, open-source version (which is what I'm using) which includes most, if not all, of the common features needed by pretty much anybody.  The Network Edition, which costs real money, offers things like Outlook integration, and Mac integration with utilities like iCal.  The Network Edition also includes features like over-the-air sync for most mobile devices.  For me, those would be cool to have, but I doubt I'll be paying for their Network Edition any time soon.  The only thing that would be nice to have is a supported backup solution, but that are a couple of tried & tested methods to back up and restore the open source version, so I should still be covered there.
The web interface is all that I use now.  It beats Exchange OWA hands-down as far as the interface goes.  Functionality wins as well in my book – it has everything OWA has (Mail (duh), Address book, calendar, tasks, documents (replacement for notes)), but it also has what's called a briefcase.  I didn't think much about it until I had everything installed and running.  I looked at the briefcase and noticed I could upload pretty much any type of file that I wanted to.  It makes a great repository for files that I need available from wherever I'm at.  And this is all for free.
The best thing, to me, about Zimbra is that its web interface is completely AJAXified.  No ActiveX garbage, no browser-proprietary stuff, just plain, simple AJAX and solid HTML/Javascript.  This means it all looks the same no matter which browser you use.  I will say, that in my Firefox installs, I have most if not all of my 'extra' javascript stuff disabled in the settings.  It still all works great.  Oh, if you don't know what AJAX is, it basically means the interface is much quicker and much, much more smooth.  You can almost forget you're using a web browser for your email!
So if you host your own email and you're looking for a system that handles it very well, Zimbra is definitely worth a look.
–UPDATE–
I forgot to mention that Zimbra has a pretty impressive list of not-so-small companies and organizations that use their suite either as an ISP's email solution for its customers, or a company's in-house email solution.